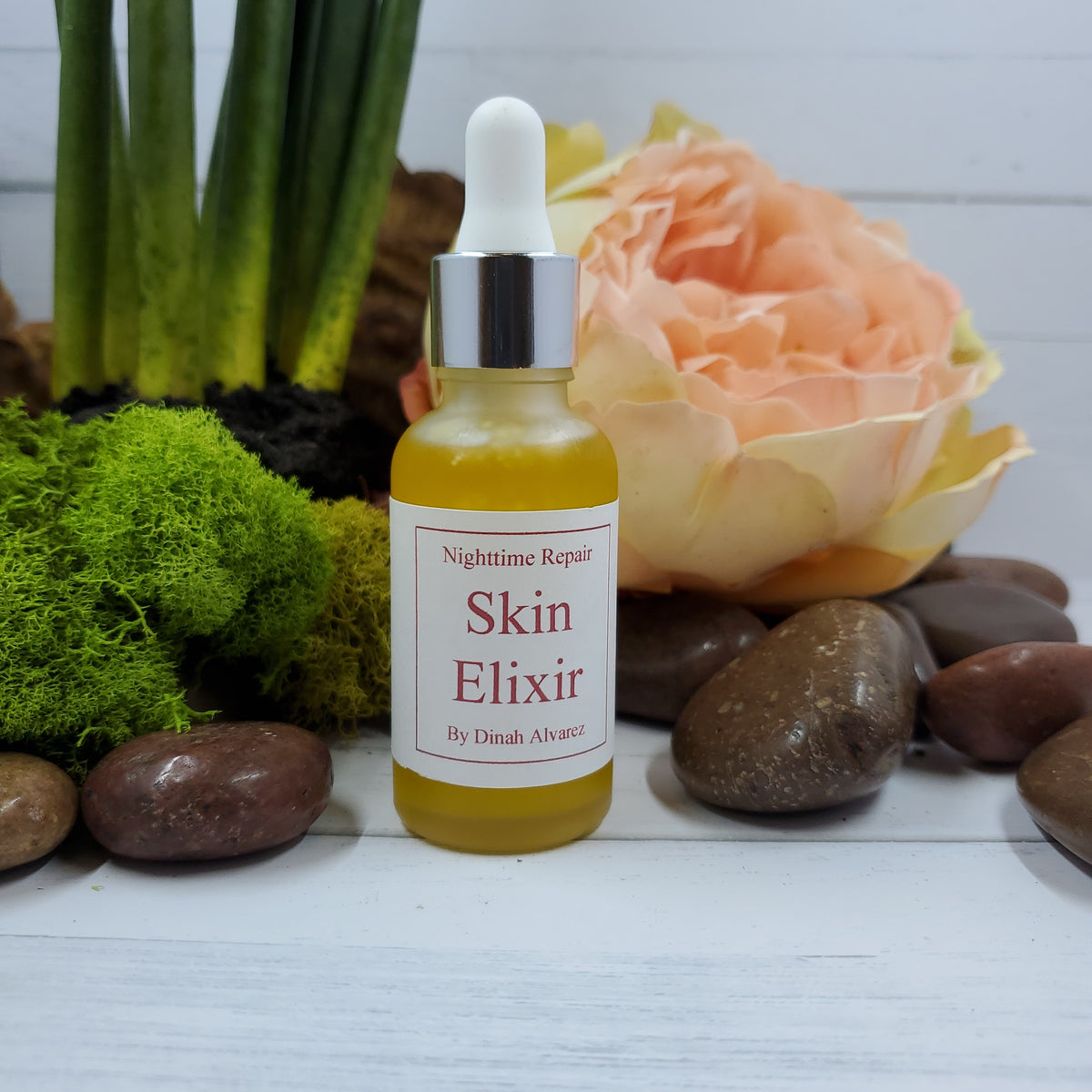 Skin Elixir Nighttime Repair
If you liked our old 360 serum, you are going to fall in love with this one! Your dreams come true. 21 organic, unrefined, cold-pressed oils in one serum.... and it's vegan!
Rosehip oil helps to boost collagen production, reduce hyperpigmentation, reduce scars and fine lines, brighten skin, and combat sun damage.
Carrot seed oil is a natural sun protectant, very high in vitamins A, C, and E.  Also, it reduces water retention.
Papaya oil is rich in antioxidants, improves elasticity, reduces the appearance of wrinkles, decreases inflammation, lightens dark spots, and in some cases is used to minimize melasma.
Pumpkin oil supports wound healing and the production of collagen, reduces free radicals, and balances natural skin oils.
Moringa oil hydrates and fights fine lines and wrinkles, soothes skin inflammation, it is antimicrobial and anti-aging.
Pomegranate oil decreases age spots, wrinkles, and skin inflammation, it's antimicrobial and a natural UV protection, however, it should not replace your daily sunscreen.
Sea buckthorn oil stimulates skin regeneration, protects against sun damage, and promotes elasticity.
Primrose oil clears acne, reduces inflammation, and improves elasticity and firmness.
Tocopherol t-50 Vitamin E  is a stronger version of vitamin E providing moisture and reducing skin itching.
Neem oil treats dry skin and wrinkles, stimulates collagen production, reduces scars, heals wounds, treats acne, minimizes warts and moles. 
Shea butter is high in fatty acids, contains high levels of vitamins A and E to reduce aging, increases elasticity, and helps to prevent stretchmarks
Apricot oil is antiaging, prevents blackheads, protects against dehydration, softens, and soothes.
Argan oil protects from sun damage, provides moisture, is rich in antioxidants and anti-inflammatory properties, and decreases sebum.
Camelina oil is anti-inflammatory, combats aging, high in antioxidants, and rich in vitamins E and Omega 3
Sweet almond oil is loaded with vitamin A for fine lines, vitamin E for sun damage, Omega-3 fatty acids to prevent premature aging, and Zinc to heal acne and scars.
Black cumin oil unclogs pores, fades hyperpigmentation, and is rich in vitamins A, B, and C.
Coconut oil is high in lauric acid which is antimicrobial, contains antioxidants that reduce inflammation, treat acne, nourish and moisturize. 
Avocado oil shields skin from UV rays, is high in vitamin E, potassium, and lecithin, is rich in oleic acid to promote collagen, and accelerates the healing process. 
Tamanu oil is rich in fatty acids, antibacterial, promotes cell proliferation and collagen production.
Marula oil seals in moisture, is high in antioxidants and anti-aging benefits, and is rich in fatty acids.
Black olive extract has antioxidant, antibacterial, antimicrobial, anti-inflammatory, and immune-stimulating properties.
---