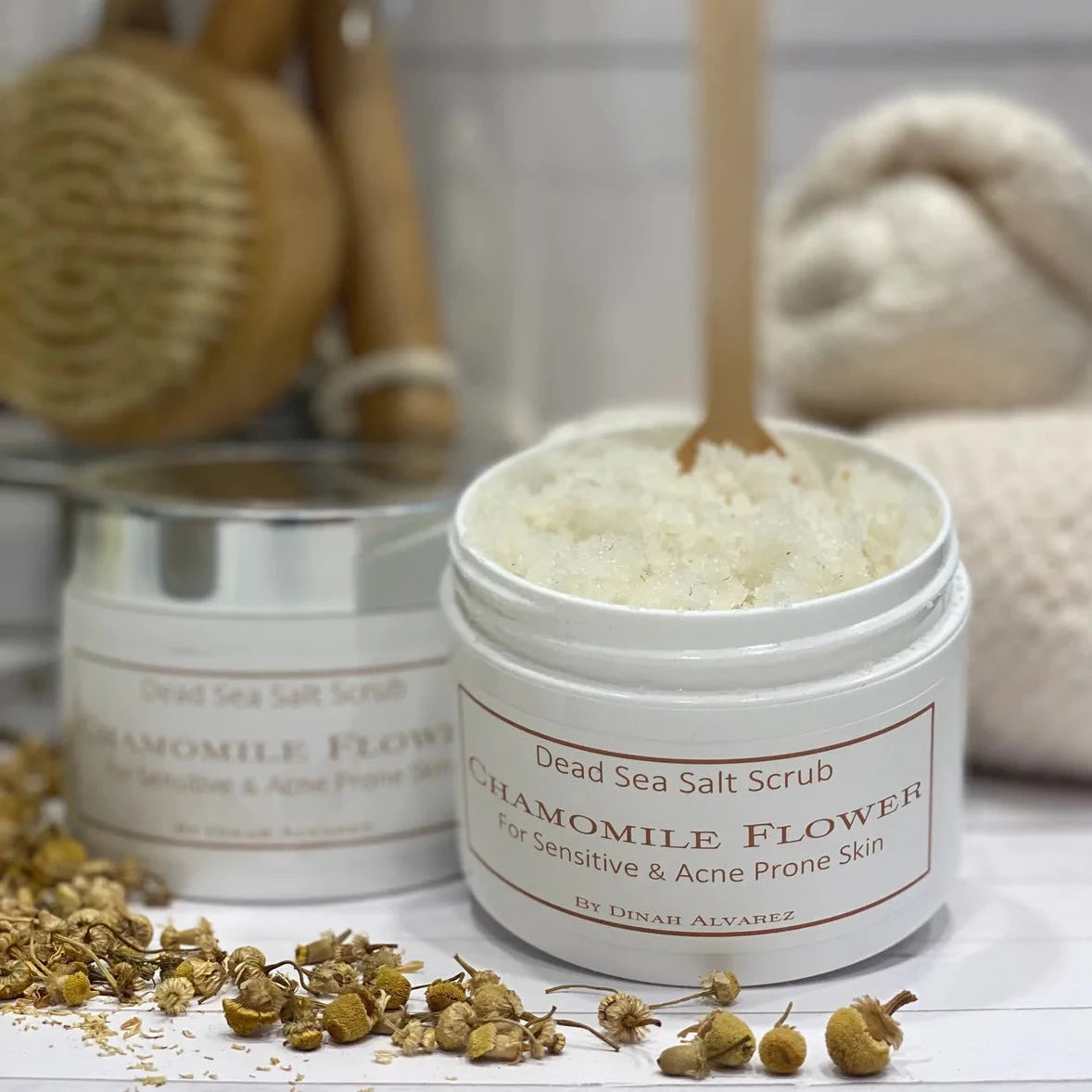 Dead Sea Salt Scrub with Chamomile Flower
Chamomile is anti-inflammatory and anti-microbial which means that it can be used to help tame skin inflammation from sunburn and rashes as well as protect against certain types of bacteria, fungi, and infections. It also has brightening and astringent properties that may help lighten dark spots that are a result of scarring or sun damage. These properties also help treat mild acne conditions as they help speed cell regeneration, which helps clear the skin. Chamomile is also extremely soothing and calming which is beneficial for those with sensitive skin and even conditions like slight eczema.
Additionally, Dead Sea salt is ten times richer in essential minerals than regular salt. These minerals assist in clarifying, detoxing, cleansing, and restoring healthy skin. Minerals like calcium, zinc, and potassium work to increase moisture retention, helping the skin stay soft, plump, and hydrated. Dead Sea salt also has amazing anti-fungal, antibacterial, and antimicrobial properties that help cleanse and detoxify the pores by driving out oils, dirt and other impurities. This means that it can help clear up acne, pimples and maybe even blackheads. 
To use this scrub, thoroughly wet and soften skin with warm water. Gently massage the scrub into the skin in a circular motion. Rinse off with warm water. This scrub can be used in the shower or bath. It can be used on the entire body, even the face. Just be careful around the eye area. 
Ingredients: sodium chloride (Dead Sea salt), glycerin, prunus amygdalus dulcis (sweet almond) oil, simmondsia chinensis (jojoba) seed oil, avena sativa (oat) kernal extract, arnica montana flower extract, tocopherol (vitamin E), helianthus annuus (sunflower) seed oil, Matricaria Recutita (Chamomile) Flower, Chamomile Recutita (Matricaria) flower extract