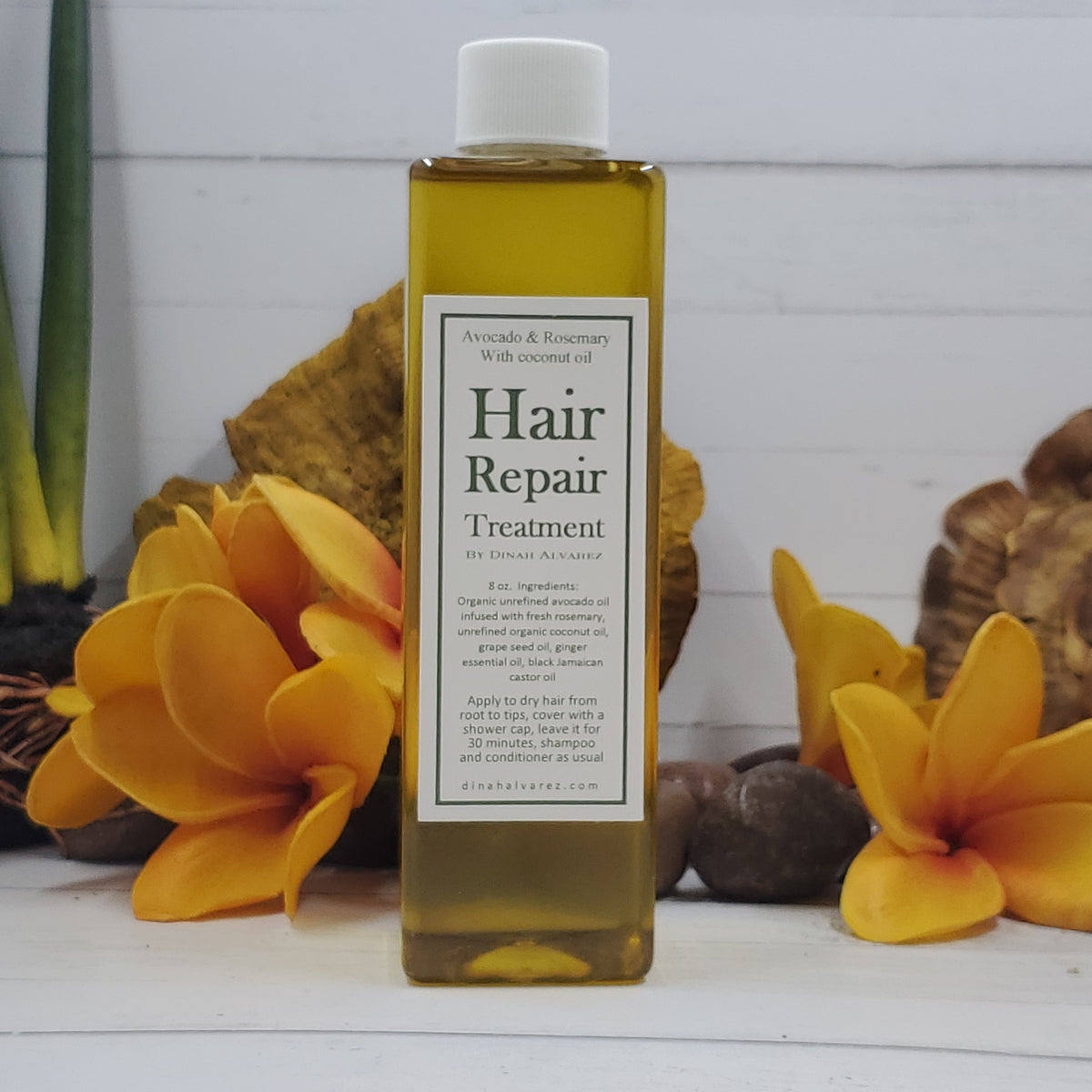 Hair Repair with Avocado & Rosemary
Regular price
$16.00
Sale price
$12.90
---
Of all the vitamins, avocado oil is rich in Vitamin E and B. These Vitamins works in a deeper level by penetrating into the epidermis thereby strengthening the hair. Vitamin B also supports hair growth, while Vitamin E is associated more with the repairing of hair damage.
The monounsaturated fatty acid present in avocado oil is even higher than that of extra virgin olive oil and is one of the prime reasons why it is so good for your hair. Many people suffer from dry, damaged and weak hair due to chemical treatments or environmental pollution. Monounsaturated fats, when applied directly in a hair mask, will nourish and strengthen hair strands, thereby improving the way they look and protecting them from further damage.
Meanwhile, rosemary helps to stimulate follicles, making hair grow longer and stronger. It is also believed that rosemary oil slows down premature hair loss and graying of the hair. Therefore, it is an excellent tonic for bald people or those who are beginning to show signs of male pattern baldness.  Rosemary infused oil is also beneficial for dry and flaky scalps. Regular massaging of the scalp with rosemary oil nourishes the scalp and removes dandruff. 
Jamaican Castor Oil has antibacterial and moisturizing properties of Jamaican black castor oil help treat a plethora of hair issues. Most importantly, they help prevent hair fall and treat other scalp issues like dandruff. The oil can help detangle your hair and even treat split ends. Here are a few ways how to use Jamaican black castor oil for hair growth.  The rich nutrients in Jamaican black castor oil (some of them being vitamin E and omega-6 and omega-9 fatty acids) help moisturize hair and treat related problems like itchy scalp and dandruff.
The ginger essential oil contains some circulatory agents. These help increase the blood flow through the scalp, which improves the growth of hair follicles.  Ginger root contains magnesium, potassium, phosphorus, and vitamins that make hair stronger, healthier, and shinier. It is also rich in fatty acids which help prevent the thinning of hair.
Grape seed oil, which is extracted from cold-pressed grape seeds, contains antioxidants that may help to block the production of DHT, a hormone that causes hair loss. Grape seed oil is used in our treatment as a carrier for a ginger essential oil that promotes relaxation of the hair follicles, preventing hair loss caused by cortisol, a hormone released when you're stressed.
How to use - apply to dry hair, cover with a shower cap for 30 minutes, shampoo and conditioner as usual.
Made with love and intention!  -Dinah